The year was 1991. 
The location - 11th Street, also known as Route 66.  
 In a modest building between Utica and Lewis, previously occupied by Siggi Grimm Mercedes, Jack Cooper and Greg Kach began Jackie Cooper Imports of Tulsa.  The new dealership offered Mercedes-Benz, Volvo, Nissan and preowned vehicles plus automotive service to Tulsans.
 Jack Cooper was already well-known in Oklahoma City as a successful car dealer and active community leader.  Many credit Jack and his wife Barbara with making the annual Red Tie AIDS benefit one of the city's most successful benefits and a model for other fundraisers, including Tulsa's Red Ribbon.
 Greg Kach, like Jack, grew up in the car business.  Greg's father was a car dealer in Duluth, Minnesota.  In 1986 Greg's career path took him from Duluth to San Diego.  While there at Hoehn Motors, he met his wife Connie, an Oklahoma native who introduced him to Jack Cooper.
 Within just a few years, the operation was bursting at the seams.
The showroom was only large enough to display five vehicles.  The parts department had inventory scattered among three nearby, rented buildings and the conference room had been sliced up into offices, most hardly large enough for a desk and single chair.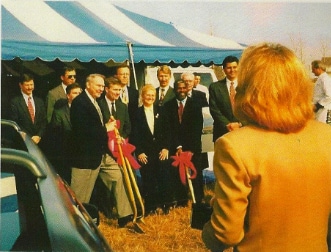 February 12th, 1998
Mayor Susan Savage declared it "Jackie Cooper Imports Day in the city of Tulsa," and dignitaries gathered to break ground in a grassy field north of the Creek Turnpike.
Double-digit increases in new and used car sales, as well as steady volume increases in service business dictated the move south. The planned facility was a 72,000 square foot building situated on eight acres.  It would feature five showrooms, over 40 service bays and sufficient on-site storage to warehouse the dealership's entire parts inventory. Each connecting showroom was designed showcase a separate manufacturer and be easily accessible to shoppers